Optimize design
in short time.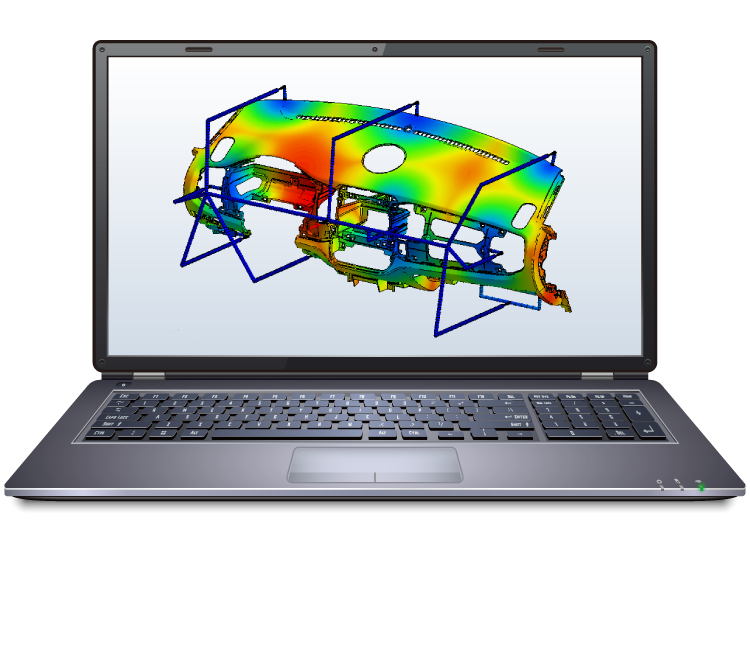 3D TIMON™ is a simulation CAE which developed by bringing together the know-how of Toray Group dedicated to support the development and production efficiency of plastics molded products.
What's 3D TIMON
™

?
Developed based on the knowledge of material
manufacturers. Standard CAE used in the world.
3D TIMON™ is a CAE developed and provided by Toray Group, a material manufacturer that operates in 10 countries and regions around the world. Developed advanced solutions based on knowledge gained from customer product development support. Widely used by users around the world involved in molding plastics and composite materials.
Development
History

More than
35 Years

Total
Customers

More than
600 Customers

Automotive
OEMs in Japan

7 Customers
Features
Problem solving in simple work flow
Our goal is to improve the efficiency and quality of customer product development. To that end, we are developing software that can be easily used by users and contribute to solving their problems.
High accuracy with fast calculation
Fast calculation makes speedy
analysis and verification.
The unique "Light 3D analysis" enables high-precision analysis in a short time compare with conventional simulation method. Also, even beginners of analysis can easily create meshes from 3D data.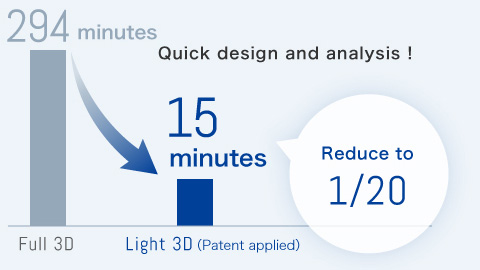 Calculated in 2 types of analysis modes of 3D TIMON™ based on 3D data of car panel.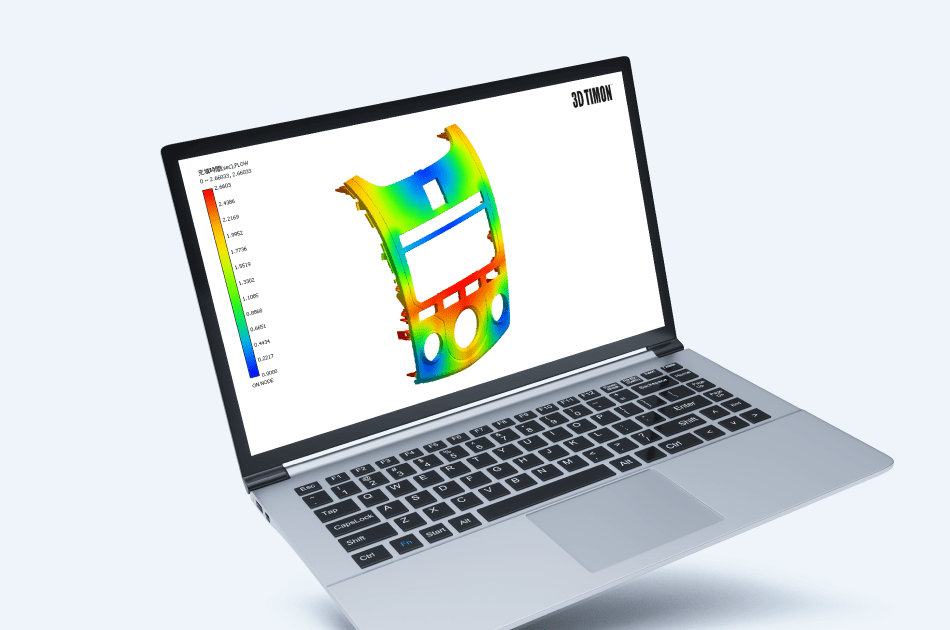 Compatible with various materials and molding methods
Wide range of support from injection molding
to molding of advanced materials.
3D TIMON™ has been improved and added functions through joint research and technical alliances with customers, universities and public institutions. It has a variety of functions that can handle special materials and molding methods.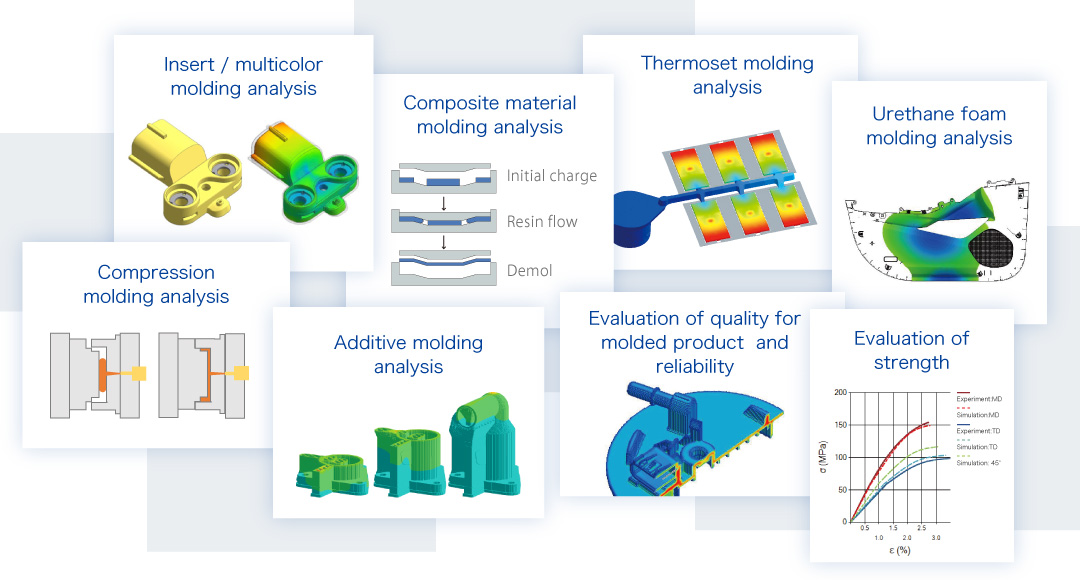 The following is an analysis module of 3D TIMON™ - CompositePRESS that supports press molding of composite materials, which has been increasingly applied to lighter automotive products in recent years.
Composite material molding analysis package "3D TIMON
™

- CompositePRESS"

Simulate the process of compression molding FRP materials contained discontinuous long fibers (thermoplastic materials GMT, LFT-G, LFT-D) and thermosetting materials (SMC, BMC materials). It predicts clamping force, rigidity (anisotropic properties) and status of warp deformation.

Introducing our original development formula "DFS (Direct Fiber Simulation)", we have achieved high evaluation by realizing accurate fiber orientation prediction of long fibers over 10 mm.
Actual molding result

Simulation result by DFS
Capability of suggestion
CAE proposes the necessary conditions,
once the target level is set.
3D TIMON™ offer the option for parametric optimization system "AMDESS for 3D TIMON", easily find the optimal solution without depending on the skill of the analyst and without having to repeat trial and error.
3D TIMON
™

is a

software that can be used

on
production site to back up molding efficiency and shorten lead time.
Ensure appea-
rance quality

Simplification
of mold

Reduction of
prototypes

Shorten the
molding cycle

Downsize of
molding machine

Find cause of
defect

Thinner and lighter
molded products
Achieves
3D TIMON
™

has been chosen
by users all over the World

FAQ
Function/Performance
What are the competitive points of 3D TIMON
™
compared to other injection molding CAE systems ?
High speed with precise analysis by Light 3D technology and, technical supports are our advantages.
The 3D TIMON™ series use a technology called Light 3D. Light 3D technology use 1-layered mesh in thickness direction to reduce simulation scales and generates 20 internal calculation points in thickness to keep the accurate simulation. It allows highly accurate simulation using solid elements in short time. As a result, solid (3D) elements can be calculated in a short time with high accuracy. Use of multi-layer solid elements is also possible. In addition, hybrid meshes that combine beam elements, shell elements (triangle, quadrilateral), and solid elements (tetra, penta, hexa) can be used. Another feature of 3D TIMON™ is the ability to efficiently find solutions to molding defects by using package software for sensitivity calculation and optimization, and PD Advisor. Our support service has been highly evaluated for its extensive know-how on plastics possessed by Toray Group as material manufacturers and thorough technical support unique to in-house development.
How many users have been used 3D TIMON
™
?
There are about 600 companies and 1000 licenses sold in Japan and overseas. (As of 2019)
3D TIMON™ is used by customers in various industries both in Japan and overseas. In Japan, we have expanded our business since 2004, (As of March, 2019) its share has reached 30%. For overseas, we set up distributors in Europe, America, China, Korea and Southeast Asia to promote global expansion. 3D TIMON™ users introduce their case studies at annual User's conference.
What kind of defects can be analyzed by 3D TIMON
™
?
You can predict defects such as short shots, weld lines, sink marks, and warpage.
In addition to the above, 3D TIMON™ can evaluate float of glass fiber and uneven gloss on parts based on various physical quantities output by 3D TIMON™. Countermeasures against weld lines and warp deformation can be easily derived with the optimization module "AMDESS for 3D TIMON™".
Is it possible to analyze cases that use special materials and molding methods such as composite molding and urethane foam molding ?
Yes.
Composite material molding can be analyzed with 3D TIMON™ - CompositePRESS, and urethane foam molding can be analyzed with 3D TIMON™ - FoamMolding. In addition, 3D TIMON™ - ReactiveMOLD supports transfer molding of thermosetting resins, and 3D TIMON™ - AMSolution supports prediction of shrinkage, warpage, and anisotropic strength of 3D printer models.
Technical Support
What is the recommended OS and hardware environment for 3D TIMON
™
?
3D TIMON™ can be used on a 3D CAD PC.
It works on a Windows PC running 3D CAD such as SolidWorks, CATIA, or NX (no high-end calculation server for analysis is required). As a guide, CPU 3GHz or more, 4 cores or more, memory 16GB or more, disk capacity 500GB or more. When selecting hardware, place importance on the CPU clock frequency, which is related to calculation time. However, 3D TIMON™ can calculate at high speed without using many CPUs, so 1 CPU and 4 cores are sufficient. Since the graphic board does not display large assemblies, an entry class is sufficient.
If I consider to purchase 3D TIMON
™
, where should I contact ?
Please fill in the inquiry form, or contact at our offices in Tokyo, Nagoya and Shiga or the closest distributor.
How does it cost of 3D TIMON
™
? How should I select a module ?
We suggest the best combination according to your needs and offer it at a price that is cost-effective.
In order to solve the problems faced by customers, we propose optimal module configurations and usage methods, and offer them at a cost-effective price. You can choose from two types of purchases, paid-up license (eternal license) and rental license (subscriptions), according to your requests. In addition, we accept consultations such as leasing.
What kind of support can I receive after signing a maintenance contract ?
Maintenance contracts include following services.
(1) Provision of upgraded version,

(2) Answering questions by phone and e-mail.

(3) Consultation of technical issues by Toray Engineering D Solutions or distributors.
Contributes to solve problems of plastics molding. Please feel free to contact us.
Developed and sold by
Address:Yaesu Ryumeikan Building 3-22 Yaesu 1-chome Chuo-ku, Tokyo,103-0028 Japan
Phone: +(81)-3-3241-1543
Korea
CAEpro Co., Ltd.
Rm.406, Kolon Digital Tower Villant II) 31, Digital-Ro 30-Gil, Guro-Gu, Seoul, Korea
TEL: 82-2-2081-1870 / FAX: 82-2-2081-1872